With musicians like King, Clapton, Waters or Vaughan, listen in!
Blues music is influenced by guitar greats like King, Clapton, Waters or Vaughan. But you should also have heard the other 16 albums in our list!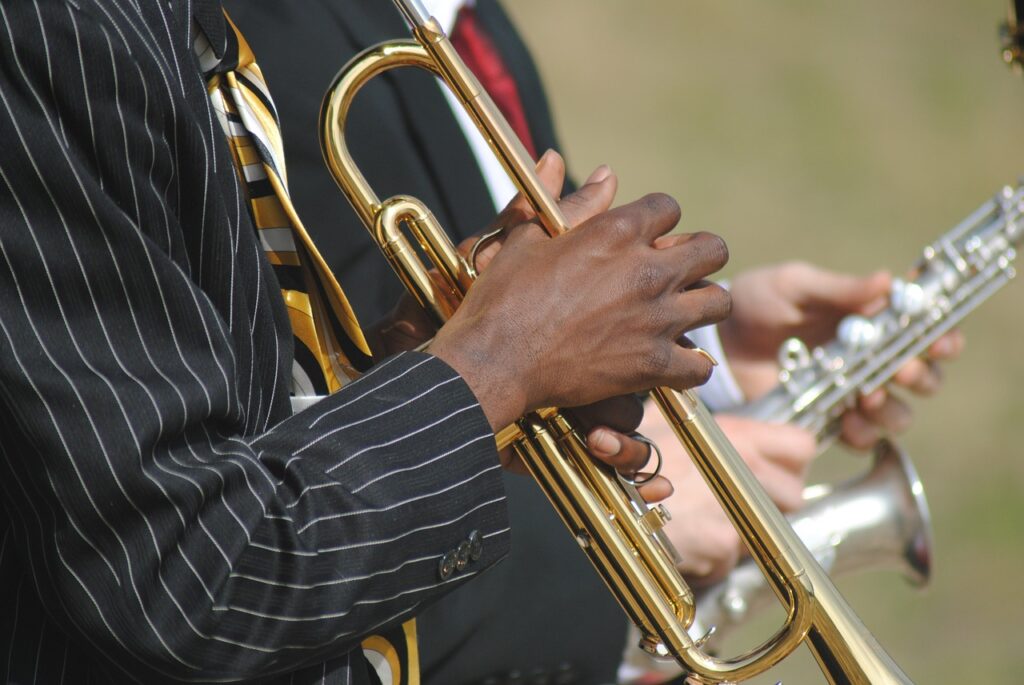 Stevie Ray Vaughan: Couldn't Stand The Weather
"Couldn't Stand The Weather" by Stevie Ray Vaughan And Double Trouble in 1984 certainly meant the ticket to the blues world not only for me. Unbeaten until today is the fast instrumental hit 'Scuttle Buttin'. Read more about Blues music here: https://www.nytimes.com/topic/organization/st-louis-blues
Also great is the shuffling 'Cold Shot' with its shimmering guitar sound or the drama in Stevie's version of 'Tin Pan Alley (aka Roughest Place In Town)', which has something very unique. The licks just bubble out of the box and the Texan's finger vibrato is incredibly present here as well as overall. Hm, was there anything else? Right, with 'Voodoo Child (Slight Return)' the strat player delivered a gripping interpretation of the Hendrix classic.
Johnny Winter: And
A good quarter of a century before Vaughan, another Texas blues man began to integrate rock into his music. Live – Johnny Winter And' (1971) impresses with the incredible energy of the Firebird player and his rhythm section, supported here by Rick Derringer on second guitar. Both a fast number like 'Good Morning Little School Girl' and the blues ballad 'It's My Own Fault' radiate an unbelievable amount of dynamics. And over the top there is the wild 'Rock And Roll Medley'. What a crisp Telecaster sound!
Albert Collins: Iceman
On 'Iceman' (1991) Albert Collins played funk, shuffles and slow blues, which are bursting with energy. The man from Houston was an unorthodox guitarist, he usually used a capo and tuned his guitars in open F minor or even D minor tunings. You've got to have heard…
Freddie King: Larger Than Life
This also applies to 'Larger Than Life' (1975) by Freddie King. His last album, released during his lifetime, offers a mix of live and studio recordings with everything he is known for: driving shuffles, funky stuff and atmospheric ballads. Everything is held together by a dynamic singer and virtuoso guitarist, whose sound literally jumps out at the listener. Freddie King was one of the best!
Buddy Guy: Sweet Tea
The legendary Buddy Guy landed an incredible comeback in the 90s. But what he did on 'Sweet Tea' in 2001 was far from the good mood Chicago blues of previous albums.
Guy went way back, playing solo on the acoustic or sounding incredibly fat and dark with a band behind him. This was something you only knew from rudimentary colleagues like T-Model Ford. Buddy's Strat sounds more expressive than ever on this album. The down-home blues album for fans of Jon Spencer or The Black Keys.
Albert King: Born Under A Bad Sign
The '66 classic 'Born Under A Bad Sign' combines numerous hits from blues giant Albert King. The left-handed player played a Gibson Flying V, which he simply turned over so that the strings were in exactly the opposite order to the player. The contrast between the straight accompanying Booker T. & The MG's and the sonorous singing style is very appealing. Musicians like Eric Clapton and SRVaughan were influenced by King's wide bendings and funky touch. This is the full-service blues, with highlights including 'Oh, Pretty Woman' and the driving 'The Hunter'.
ZZ Top: Fandango!
ZZ Top have always been deeply rooted in the blues despite their comparable harder southern rock sound. Fandango!' from 1975, about half of which is live recording, probably features some of the bearded trio's greatest blue songs.
The opener 'Thunderbird' and 'Tush' with the greatest blues rock riff of all times are absolutely great. At least! And in 'Blue Jean Blues' Billy Gibbons elicits some of his most intense licks from his guitar. An album that makes you happy.
Johnny Copeland: 92er Album ,Flyin' High
The conclusion of our tips for blues beginners, rediscoverers & advanced blues players is Texas bluesman Johnny Copeland with his '92 album 'Flyin' High'. Straight shuffle and funk numbers as well as fantastic ballads, such as the soulful 'Greater Man', are very fun. In addition there is a trip to New Orleans with Dr. John and a zydeco number with accordion accompaniment. Johnny played a sharp guitar on 'Flyin' High' in front of thick brass sections with a very special sound and timing in his fingers. And his voice is incredibly penetrating here. Great album to take off!
Robert Johnson: The Complete Recordings
Let's take a leap back in time to the early days of the blues, to the man who, according to legend, sold his soul to Beelzebub and in return received fabulous guitar talents.
The double CD 'The Complete Recordings' by Delta icon Robert Johnson (*1911 +1938) belongs without doubt in every serious blues household. His virtuoso technique, including bottleneck playing, continues to amaze generations of musicians to this day, as in the 60s the young Keith Richards once told about his first encounter with the blues giant: "I heard two guitars and it took a long time before I realized that he was actually playing all by himself.
Johnson was a one-man show with a memorable vocal timbre, immortalizing classics like 'Sweet Home Chicago', 'Rambling On My Mind', 'Love In Vain' and of course 'Cross Road Blues' – which were and are covered again and again. Sure, the listening pleasure is first and foremost something for purists, but if you want to dive into the matter, you can't get past the mythically charged Robert Johnson.
B.B. King: Live At The Regal
And that brings us to the reigning King of the Blues: Mr. B.B. King! Live At The Regal' is a top album by the master, as well as the blues in general. The recording of November 21, 1964 from the Regal Theatre Chicago conveys a vivid atmosphere! The Blues King's band swings like hell and makes the (good to hear) audience go crazy with ballads like 'Sweet Little Angel' or John Lee Hooker's 'It's My Own Fault'. The dynamic of his voice is so stirring – you can hardly escape this 60 years later. And what the Blues Boy pulled off on his semi-acoustic Lucille here is already fantastic. Every lick is like a statement in itself, played intensively and very inspiring. "How Blue Can You Get?" sings Mr. King, and that's about as much as you can do on this album.